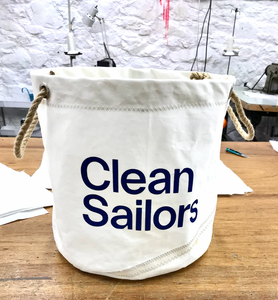 Our Upcycled Sailcloth Mini-Bucket bags have been made for Clean Sailors by Sails and Canvas from end-of-life sails which would otherwise go to landfill. 
The sailcloth has marks and imperfections that tell the tale of its former life on an ocean wave. With strong rope handles and nickel grommets this is an ideal carry bag or storage bucket for onboard or on shore. 
Our Clean Sailors logo is laser cut from royal blue self adhesive insignia sailcloth. 
Dimensions - approx 30cm base diameter x 30cm high
Handcrafted by Sails and Canvas, Topsham, Devon for Clean Sailors