Clean Sailors Youth Team wins Bacardi Cup Invitational Regatta in Miami
A huge congratulations to our Clean Sailors Youth Racing Team for winning the Bacardi Invitational Regatta in Miami.
Our ambassadors, Lukas Hesse, Jann Schüpbach and CJ Perez were buzzing after the experience of racing the Persico 69F in perfect foiling conditions.
"Biscayne Bay was just perfect for high-speed foiling," beamed Hesse. "Blue skies, warm, blue water, small waves, really it was paradise, just paradise."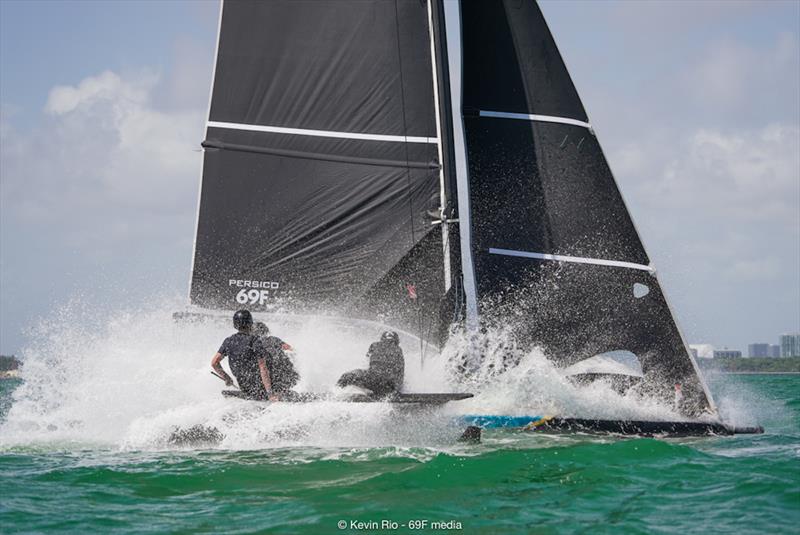 "It was blowing about 17 knots and the course was quite short on day one so wasn't worth hoisting, setting and dropping the gennaker when we're already going so fast. Unfortunately we couldn't get the two-sail gybe quite right and so we were capsizing on the final gybe."

After a solid debrief talking through the issues from day one, the Clean Sailors Youth Racing Team really got their act together for the next day, gybing cleanly and winning all six races.
"We've had more time on the water than the other teams," said Hesse modestly. "It really comes down to time in the boat getting used to handling the 69F on and off the foils, and working out your coordination between the crew in the manoeuvres."
"People were saying to me, 'the 69F looks great but I'm too old to sail one now'," commented Hesse, at 22, the oldest of his team. "But I would say that a good Star sailor, for example, would take just a few days to adjust to the timing of the manoeuvres and they would get used to the 69F quite quickly. I think people seeing such young sailors racing such a fast boat think it's out of their reach. But they should try it out because I think a good sailor in one class will adapt to another class, even when it's a high-speed foiler."