Meet our Ambassadors
CJ Perez 🇺🇸
USA SailGP Team
USA Champion Gold - WASZP
Boats: O'PEN Bic, WASZP, 69F, SailGP
Born and raised on Oahu,Hawaii, CJ Perez began sailing when she was 13 years old. She has a competitive spirit and fast growth rate, snatching an Open Skiff World and North American Championship title within her first 3 years in the sport. Foil sailing in the WASZP class, she recently won the 2021 US National Championships.
CJ is the youngest person ever to join the SailGP league. She represents the United States SailGP Team.
CJ is a member of our Clean Sailors Youth Racing Team.
Lukas Hesse 🇩🇪
German Champion 2020
Boats: 49er, 69F, WASZP
Lukas is our longest serving Ambassador. He is a professional sailor in high performance boats and German Champion 2022. He is currently training for for the 69F Youth Foiling Gold Cup and the WASZP Worlds. As an Opti sailor, Lukas achieved 7th in the Worlds in 2013 and was awarded Second Best Nation. He then graduated to 29er boats, taking part in the World Sailing Youth Worlds in New Zealand. In 2017, he started a four-year campaign for the Olympic Games in the 49er, but tried foiling and became absolutely hooked.
Lukas is a member of our Clean Sailors Youth Racing Team.
Hannah Stodel 🇬🇧
Three-time World Champion, four-time Paralympian
Boats: Mixed Sonar, Class40
Hannah was introduced to sailing at the age of three by her parents, both fierce competitive sailors.
By 13 years old Hannah had attracted real attention. Dame Ellen MacArthur took Hannah racing aboard the trimaran "Foncia Kingfisher" during the Round the Island Race in 199 and at 15 the call from Andy Cassell, the Atlanta 1996 PARALYMPIC Gold medalist in the Sonar class, came, inviting her to train with him. 
Hannah held the mixed World Championship title in the 29er class before selection for Sonar which saw her win multiple World, European and National Championships over several sailing classes, and later successive Paralympic wins.
Hannah is now training for the Vendée Globe 2024.
Jann Schüpbach 🇨🇭
Boats: 420, 470, WASZP, 69F
From a very young age, Jann was sailing a small family boat in the Swiss Alps. He soon took over the helm and began sailing competitively in the Optimist class. After a successful time in the Opti and several national and international podiums, Jann continued his sailing path in the 420 Dinghy, as Crew. He is currently training in the WASZP, preparing for the European and World Championships, alongside our 69F Youth Foiling Gold Cup 2022 campaign.
Jann is a member of our Clean Sailors Youth Racing Team.
Paddy Hutchings 🇬🇧
After finishing his A levels Paddy began competing on the world stage, representing Great Britain and teams such as Team Malizia and Pip Hare Ocean Racing - both very well established "around the world" racing teams. After gaining experience and sailing with these teams, he confirmed his entry into the legendary Solitare Du Figaro, a gruelling offshore race taking place around the French coast for over 2500 nautical miles in August 2022. The Solitaire Du Figaro attracts the world's best sailors and is a huge event in the sailing calendar worldwide.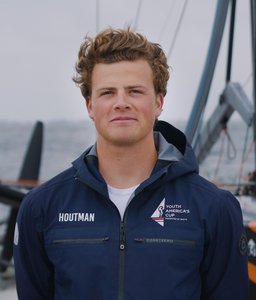 Scipio Houtman 🇳🇱
Youth 49er European Champion, 69F Revolution Cup, 69F Pro Cup, 69F speed record holder
Boats: Laser4.7, Laser Radial, 49er FX, 49er, Nacra17 and 69F
Scipio is a Dutch professional sailor who has been sailing his entire life. From being onboard with his parents as a baby, Scipio began taking the helm himself in an Optimist, when he was 7 years old.
Since then, he's sailed and competed globally in a whole variety of boats including the Laser4.7, Laser Radial, 49er FX, 49er, Nacra17 and 69F, and he's now back in the 49er working on his Olympic campaign.
He holds the 69F speed record at 34.9 knots (wowsers!) with his team having also won first place in the Youth Foiling Gold Cup 2021.